Back
ADRIANA WHOLE GRAIN SPAGHETTI WITH PORK NECK, MUSHROOMS AND LEEK
20 minutes
Moderate
2 servings
with meat
Ingredients
300 g Adriana Whole Grain Spaghetti
300 g pork neck, cut into small pieces
150 g button mushrooms, cut into small pieces
50 g leeks, chopped into strips
60 g capsicum (bell pepper), sliced into strips
1 garlic clove, thinly sliced
½ red onion, thinly sliced
4 tablespoons soy sauce
olive oil
salt, freshly ground pepper
parsley

Tip
- Prepare a vegetarian option by replacing pork neck with broccoli.
- Use spring onions instead of leeks
- It is important to use a fry-pan designed for high-temperature cooking, as all ingredients must be fried over high heat.

Description
Cook the pasta in salted water according to the instructions on the package and strain. Heat the oil in a pan and fry the pork neck, garlic, red onion, and mushrooms over high heat. Add leeks, bell pepper and cooked pasta; season with soy sauce and black pepper, and toss to combine. Serve immediately, and garnish with parsley.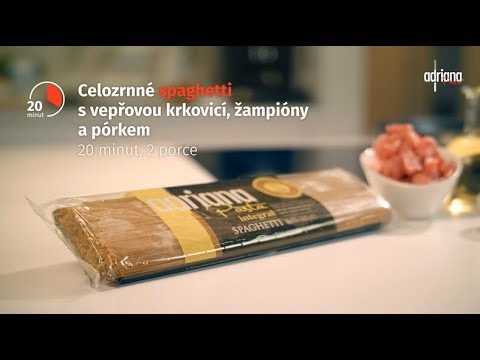 Used in the recipe