Back
ADRIANA WHOLE GRAIN FUSILLI WITH SUN-DRIED TOMATO PESTO, HAZELNUTS AND RICOTTA
10 minutes
Easy
2 servings
vegetables
Ingredients
300 g Adriana Whole grain Fusilli
100 g sun-dried tomato pesto
50 g hazelnuts, roughly chopped
100 g ricotta cheese
100 ml pasta water
1 bunch of basil
salt, freshly ground pepper

Tip
- Ricotta cheese can be replaced with feta .
- Pine nuts can be used instead of hazelnuts.
- Sun-dried tomato pesto can be replaced with basil pesto.

Description
Cook the pasta in salted water according to the instructions on the package and strain, reserving a little of the cooking water. Heat the saucepan, add sun-dried tomato pesto, and sauté; then, add reserved pasta water and cook briefly. Add prepared pasta and ricotta cheese; toss to combine. Serve immediately, and garnish with basil and hazelnuts.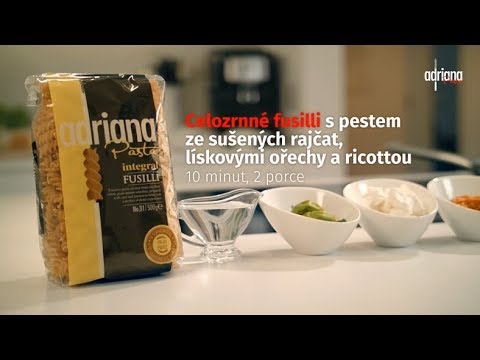 Used in the recipe