Back
TROUT FILLET AND WARM SALAD WITH ADRIANA FUNGHETTO, POTATOES, BRUSSELS SPROUTS AND DILL
30 minutes
Complicated
2 servings
fish and seafood
Ingredients
300 g Adriana Funghetto
80 g cooked potatoes, cut into small pieces
150 g cooked Brussels sprouts, cut into small pieces
25 g butter
50 ml of white wine
2 trout fillets
1 shallot, thinly sliced
1 bunch of dill, finely chopped
1 lemon
olive oil
salt, freshly ground pepper


Tip
- Trout can be replaced with other types of fish, such as salmon.
- Place the fish into the pan with the skin side down and press slightly against the surface of the pan, so that the fillet does not curve.

Description
Cook the pasta in salted water according to the instructions on the package and strain. Heat the oil in a pan, season the trout fillets with salt and pepper, and fry in olive oil on both sides. Heat another pan with olive oil and sauté the shallot; pour in the white wine and cook briefly. Add potatoes, Brussels sprouts, and butter, followed by cooked pasta and dill. Season with salt and pepper and toss to combine. Arrange the trout on a plate alongside a warm salad and lemon.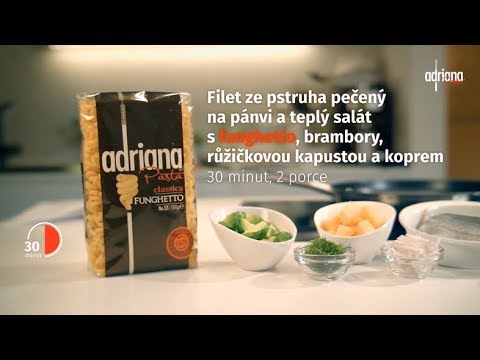 Used in the recipe