Back
ADRIANA PENNE TRICOLORE AGLIO OLIO WITH BACON AND PARMESAN
10 minutes
Easy
2 servings
Ingredients
300 g Adriana Penne Tricolor
100 g bacon, cut into small pieces
200 g cherry tomatoes, halved
2 garlic cloves, thinly sliced
1 chilli pepper, finely chopped
1 bunch chives, finely chopped
freshly grated Parmesan cheese
olive oil
salt, freshly ground pepper

Tip
- Garlic must be fried to a golden brown colour, but must not be burned; otherwise, it will be bitter.
- Chives can be replaced with finely chopped parsley.

Description
Cook the pasta in salted water according to the instructions on the package and strain. Heat the oil in a saucepan and fry the bacon until crispy. Add garlic, chilli, and cherry tomatoes; season with salt and pepper and fry over high heat. Toss with cooked pasta and chives. Serve immediately with freshly grated Parmesan cheese.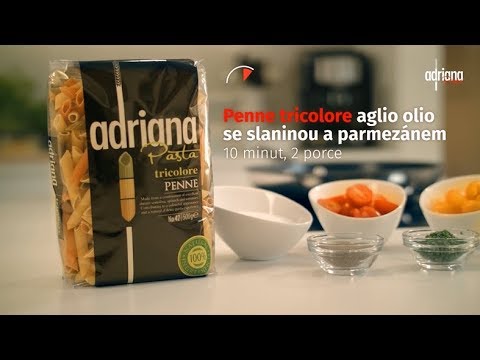 Used in the recipe